According to a recent BBC report, 70% of workers do not expect to return to their offices every day, but will continue to work from home for some or all of their working week (presumably the other 30% have no choice – lifeguards, anesthetists, traffic wardens, and so forth). But working from home is like marmite – some love it and some hate it – and it has become controversial. The same report found that half of senior leaders claim that "workers staying at home will adversely affect creativity and collaboration", and firms such as Goldman Sachs and Apple have rejected calls for more flexibility, with the former even calling working from home an 'aberration'.
The F-word, i.e., 'flexible' working – part-time work, flexitime, remote working, anything outside of the standard office rules – has become a buzzword. Recruitment adverts are screaming flexible working at potential candidates, surveys are hailing it as the new-norm, and Forbes found that 92% of Millennials identify flexibility as a top priority, and 80% of women and 52% of men want flexibility in their next role. An EY poll of 1000 UK workers found that four in five wanted flexibility where they worked, and 47% said they would consider changing their jobs if flexible working wasn't an option.
At AS&K, we have always embraced flexible working, pre- and post-pandemic. We promote our Working and Wellness initiative for everybody and it works. We simply encourage two key elements: flexibility and consideration. Our culture empowers people to achieve a strong work–life balance.
Time and time again, reports confirm the benefits of flexibility – for physical and mental wellbeing, job satisfaction, a competitive edge, talent attraction, boosting creativity, retention and commitment.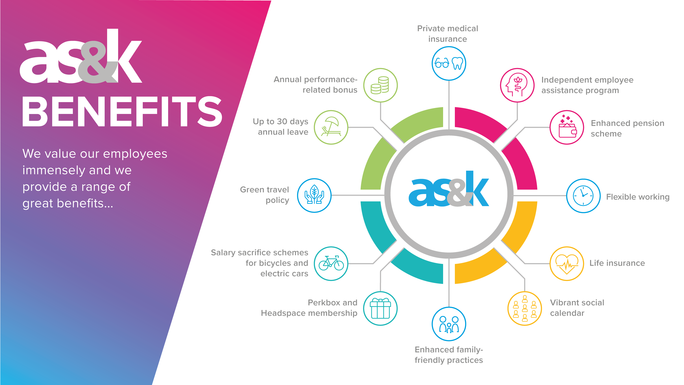 The AS&K Group welcomes flexible working and all the benefits that come with it. We proved before COVID that we could work flexibly, we continued during lockdown, and now we're embracing all the positives and supporting everyone with what suits them. So, if this week you wanted to come to the office for 3 days, great. Next week you may work from home every day. The week after, who knows, you could be out of the country! Our dynamic teamworking enables everyone to communicate and work together, not only ensuring that the work gets done, but also that we exceed expectations.
And what of our hours? Our clients are global so at times we need to work in different time zones, and we need to respect that. We also need to respect each other's hours, and so we encourage teams to work the hours that suit them. We also encourage our people to take time away from their screens – walk the dog, attend an exercise class, do the school run, or whatever they need to do during the day.
People don't just log off and leave the last person standing to finish the work. We work together across teams, so we know who's doing what and when. Our fantastic teams support each other to fulfil and achieve their potential.
The cliché that happy teams are successful teams is certainly true, and at the AS&K Group we will always promote and support the F-word, flexibly and considerately.
#greatplacetowork
Blog image